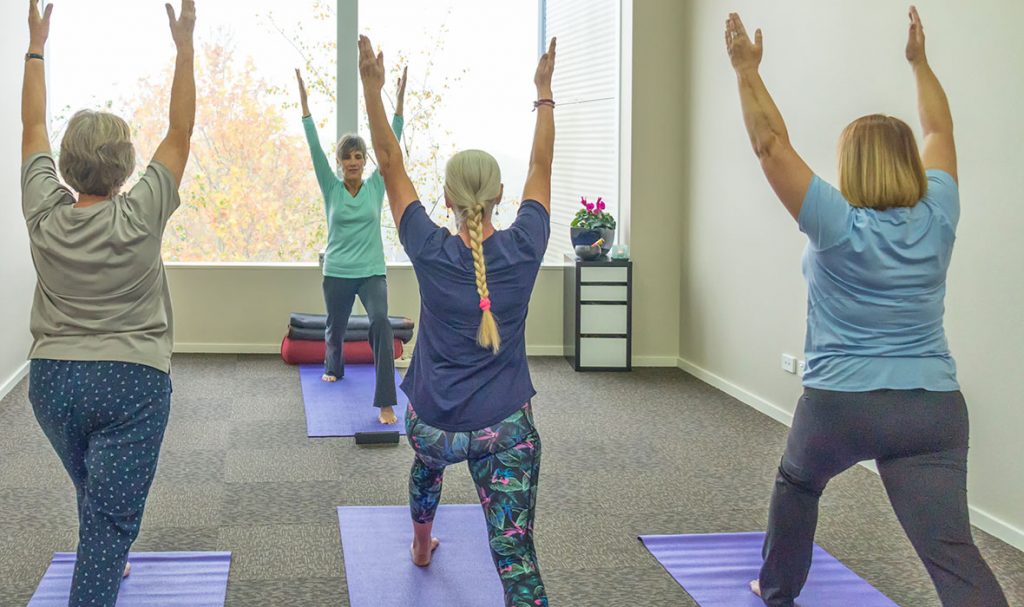 Zara is an Internationally and Australian Certified Yoga Therapist, Senior yoga teacher, Yoga teacher trainer; and iRest Yoga Nidra® Level II, teacher in training with the Integrative Restorative Institute.
Zara offers regular private and public yoga classes for beginners, intermediate and advanced yoga students in Moss Vale, Bowral and Southern Highlands.
Zara commenced yoga in 1990 and imbibes an eclectic approach in her yoga, blending the influences of many teachers and traditions over her studies, which include Tai Chi, Ashtanga, Siddha, Anusara and Iyengar Yoga.
Zara combines her rich understanding of yoga with a long professional history in the mental health arena as a psychotherapist, counsellor and registered nurse.
Her classes incorporate the development of concentration skills, mindfulness, breath awareness, philosophy, meditation, relaxation, yoga nidra and yoga postures. These classes are both active and restorative. Yoga calms the mind, strengthens the body, develops flexibility and balance, as it opens and lifts the heart. Yoga is suitable for all individuals, despite their age and physical or emotional condition.
Zara also provides a mentorship service for Yoga teacher trainees and Yoga therapists embarking on their journey of teaching yoga or yoga therapy. She provides a supportive environment to discuss client treatment programs and gain fresh insights to assist your clients more effectively.
Services
Yoga Classes
Yoga Therapy
Supervision and mentorship for Yoga Therapists and Yoga teachers
Location
Southern Medical Centre
Level 1. 61 Elizabeth St, Moss Vale,  NSW.
Class times for Thursdays
9.15  to 10.30 am – Gentle beginners yoga
11.15 to 12.30 pm – General yoga
Investment
10 class pass: $160
10 class pass: $140 [with concession card]
1 Casual attendance: $20
Private classes for 1 hour in your home: $100
No classes on public and school holidays.
All equipment supplied. Please wear comfortable clothes.  Room opens 15 minutes prior class commencement.
Westpac Bank Account: Zara A Matthews
BSB: 734 033
Account: 618 643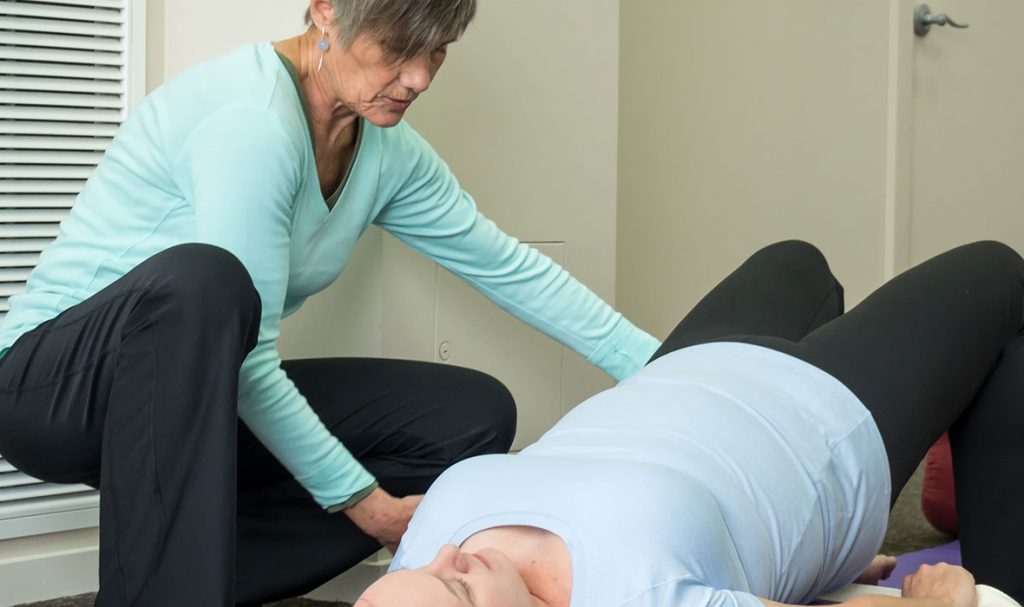 What is Yoga Therapy?
Yoga Therapy is the holistic adoption and application of yoga techniques, developed within a professional and safe therapeutic relationship. These ancient yogic practices, when regularly practiced, walk the individual towards greater health and freedom from disease.  Empowering you to face health challenges, manage your condition, reduce symptoms, restore balance, increase vitality, improve attitude and lifestyle. Yoga therapy respects individual differences in age, culture, religion, philosophy, occupation, mental and physical health.
Such techniques include asana (postures), pranayama (breath awareness and control), relaxation, meditation, Yoga nidra, dietary advice, lifestyle coaching, counselling and self-development guidance.
Zara an experienced and well-respected national and internationally Certified Yoga therapist will tailor your individual yoga practices, to your specific health concerns, rarely addressed in a group yoga class.
Balance your body now, it's precious!
Yoga as Therapy
The ageing process changes our lives, bodies and energy levels. Some of these changes are welcome while others are more difficult to accept. These natural physical changes, combined with unhealthy lifestyle choices, may lead to disease of body, mind and spirit.
Many people begin to experience circulatory disorders, arthritis, pain, digestive complaints, depression, reduced balance, muscle mass and bone density as they age.  All of which affect the quality of daily life.
These events may be prevented or slowed to a large extent, through healthy activities and lifestyle. Keep your mind, body and spirit supple, strong and light with Yoga!
A cheerful self-loving heart creates a calm disposition in life, despite the inevitable turbulence.
It is never too late to begin the gentle movements of yoga.
Investment
Individual Yoga Therapy: $80 per hour or 6 prepaid sessions at $420
Bank details
Westpac Bank Account: Zara A Matthews
BSB: 734 033
Account: 618 643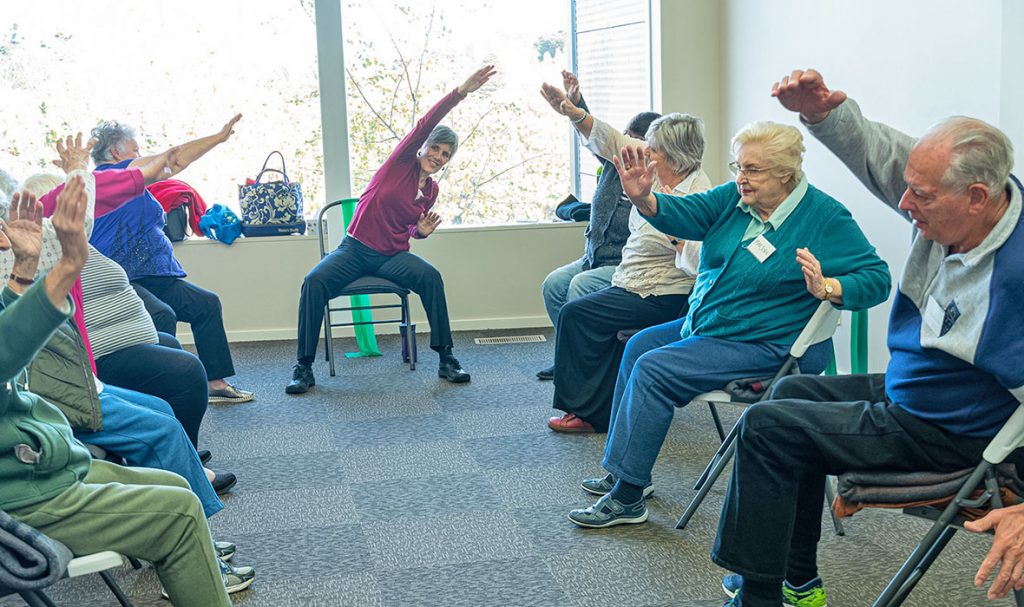 Zara's  gentle yoga therapy group is specifically designed to accommodate those who experience limitations in movement, health and energy levels.  Students receive personalized guidance with their individually designed home practices. These are formulated for each person's current physical and emotional states.
Prior attending these yoga therapy groups it's required that individuals have a private yoga therapy assessment with Zara. Together we formulate your initial yoga practice specific for your health concerns. This you practice both in the group under Zara's expert guidance and at home.
Home practices are reviewed weekly in class and adapted according to the individual's progress.
Asana or movements are often performed while seated on a chair, which may also be utilized for support or against a wall. This allows students to enjoy the strengthening benefits of yoga, without the difficulty of getting up and down from the ground.  
Mindfulness practices, often anchored within the breath, form an essential part of classes and contribute to your deep relaxation experiences.
Meditation is incorporated into all classes and is known to assist in the prevention of memory loss, mental deterioration, also reduces heart rate and blood pressure.
Each class is an opportunity to meet people, make friends & discuss real life issues.
Improve
Sleep
Balance
Mobility
Flexibility
Arthritis
Pain
Circulation
Complexion
Digestion
Menopausal symptoms
Enhance
Memory
Strength
Mindfulness
Energy
Motivation
Initiative
Muscle Mass
Anti ageing
Breath capacity
Relaxation & calm
Contact Zara for your appointment!
Investment
Yoga Therapy Group package: $180.
Initially attend a one hour private yoga therapy assessment to create your home practice. Then commence 4 one hour group classes, honing and adjusting your home practice, as your target health concerns improve.
Bank details
Westpac Bank Account: Zara A Matthews
BSB: 734 033
Account: 618 643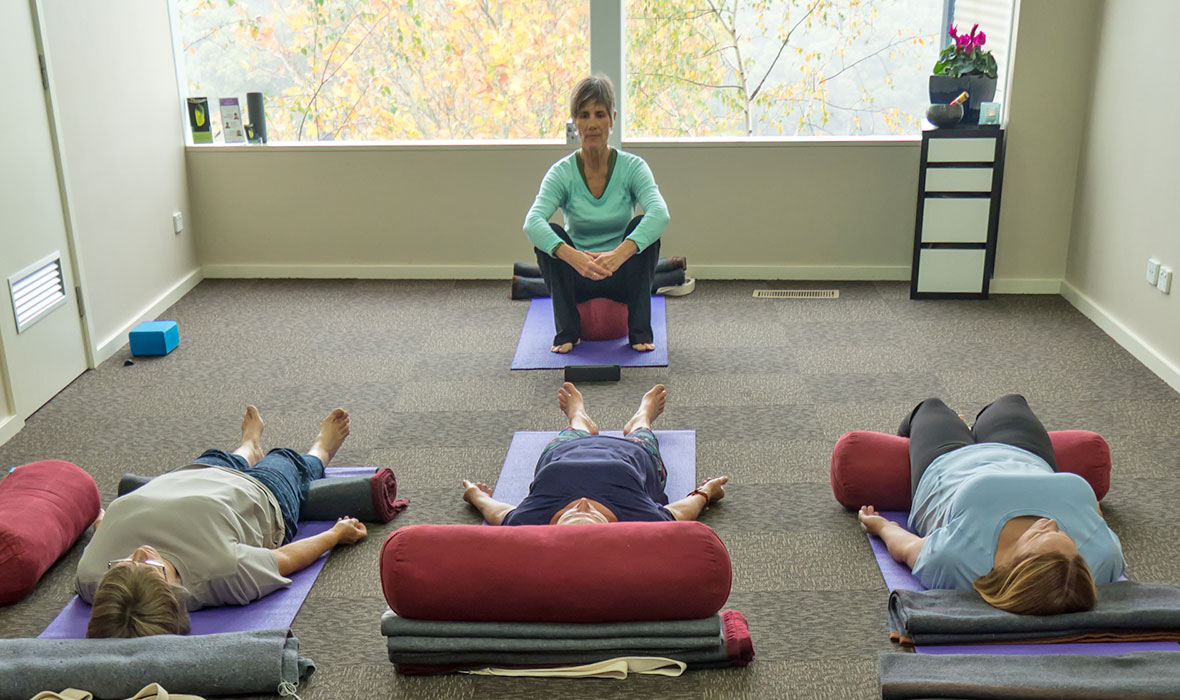 Yoga Nidra is an evidence based ancient transformative practice of deep relaxation and meditative inquiry that releases negative emotions and thought patterns, calms the nervous system, and develops an inner sanctuary of well-being and equanimity that underlies all circumstance you encounter in  life.
Research validates iRest® Yoga Nidra effectively reduces PTSD, depression, anxiety, insomnia, chronic pain, and chemical dependency, as it generally increases your wellbeing. An adjunctive treatment that has been integrated into veteran settings, homeless shelters, clinics, and healing and meditation centres where healthcare professionals integrate iRest to facilitate their own and their clients' healing and wellbeing.
iRest essentially teaches you how to live a contented life, free of conflict, anxiety, fear and suffering by opening your mind and body to their inherent ground of health and wholeness.
iRest® Yoga Nidra is a research-based transformative practice of deep relaxation and meditative inquiry that:
Releases negative emotions and thought patterns
Calms the nervous system
Cultivates a deep capacity to welcome all circumstances you encounter in life
Memory
Strength
Mindfulness
Increased energy levels
Motivation
Initiative
Muscle mass
Bone density
Anti-aging
Breathing capacity
Relaxation & Calm
Zara is an iRest® Yoga Nidra, Level II, Teacher in training with the Integrative Restorative Institute and Hatha Yoga teacher.
Zara offers Yoga Nidra sessions individually, within yoga classes and workshops.
Please contact Zara for your Yoga Nidra appointment or phone with further enquiries.
Investment
Individual Yoga Nidra session: $80 per hour or 6 prepaid sessions at $420
Bank details
Westpac Bank Account: Zara A Matthews
BSB: 734 033
Account: 618 643